Estimated Insured Losses Exceed $6.2B
For reporting period through April 26, 2019, according to the latest Hurricane Michael claim information provided by The Florida Office of Insurance Regulation (FLOIR), more than 146,000 property insurance claims have been filed by insureds. Total estimated insured losses exceed $6.2B. The vast majority of insurance claims, 60%, are from Bay County property owners. Bay County is home to Mexico City Beach, which was nearly leveled. Surrounding cities like Panama City, Lynn Haven, and Callaway also greatly suffered from the winds and water brought by Hurricane Michael.
Closed Claims (Paid)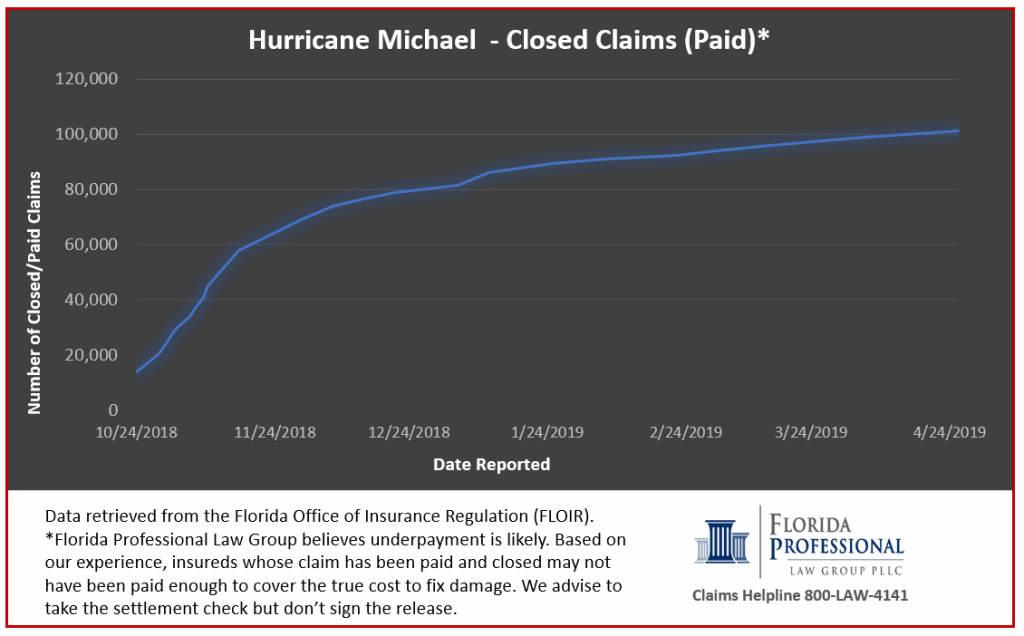 There are more than 101,000 Hurricane Michael claims that have been closed and paid. Unfortunately, this could mean that the insurance company paid something on the claim, but did not pay what the property owner needed to make them whole again. This could result from:
Overlooking some of the damage.
The insurance company's field adjuster not estimating like kind and quality of materials and finishes.
Denying payment on some of the claim citing that damage was not caused by the hurricane or is not covered under the policy.
That is why we believe that "closed and paid" could really mean that an underpayment occurred.
Closed Claims (Not Paid)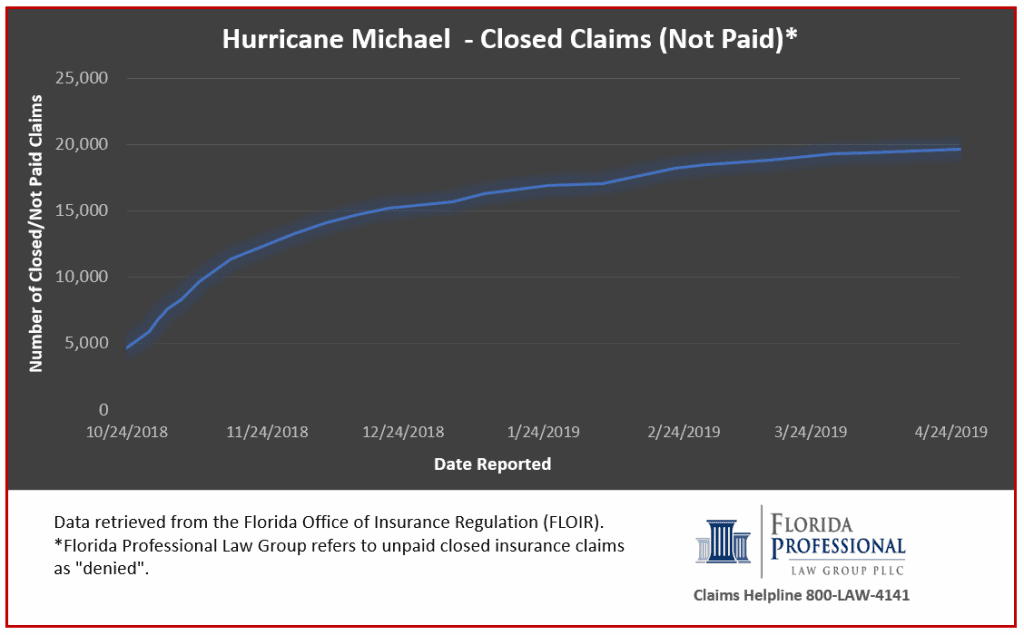 There are 19,360 claims that have been closed and not paid. We refer to these as "denied". The insurance company may deny a claim based on the belief that damage was not caused by Hurricane Michael or based on the belief that the policy doesn't cover that specific cause of loss (also called a "peril").
Here are excerpts from two denial letters from insurance companies:
"[we are] unable to provide coverage for your loss, as your policy does not provide coverage for wear and tear, deterioration or water to the interior of a building unless a covered peril first damages the building causing an opening to a roof or wall and the rain enters through this opening."
"Unfortunately, because the direct force of a covered peril did not damage the exterior of your home causing an opening in your roof or wall allowing the rain to enter, there is no coverage for the resulting interior water damages to your home. Additionally, your roof is failing due to age, wear and tear which is also excluded by your policy."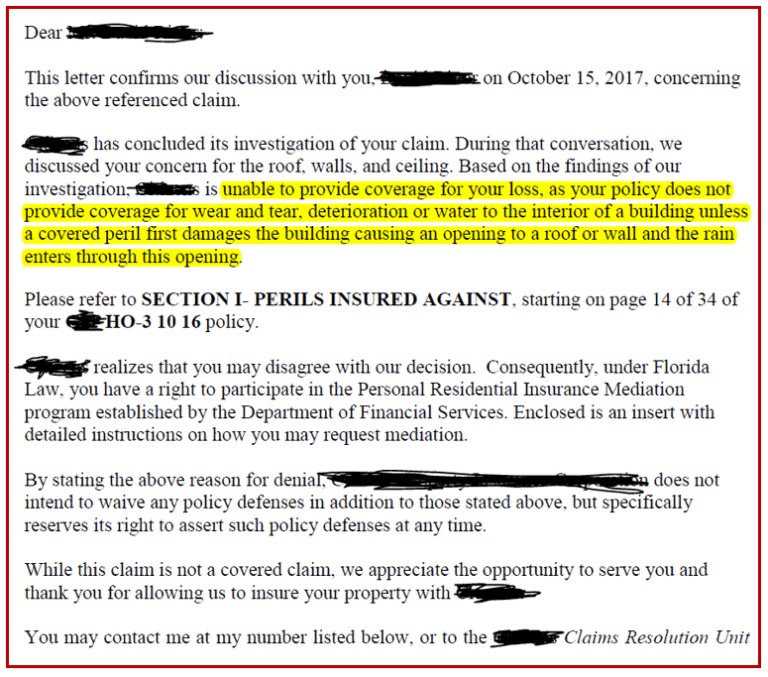 A denial letter is typically several pages long. It will cite the reason for denial along with including the exact verbiage of your insurance policy relating to why your claim was denied.
Open Claims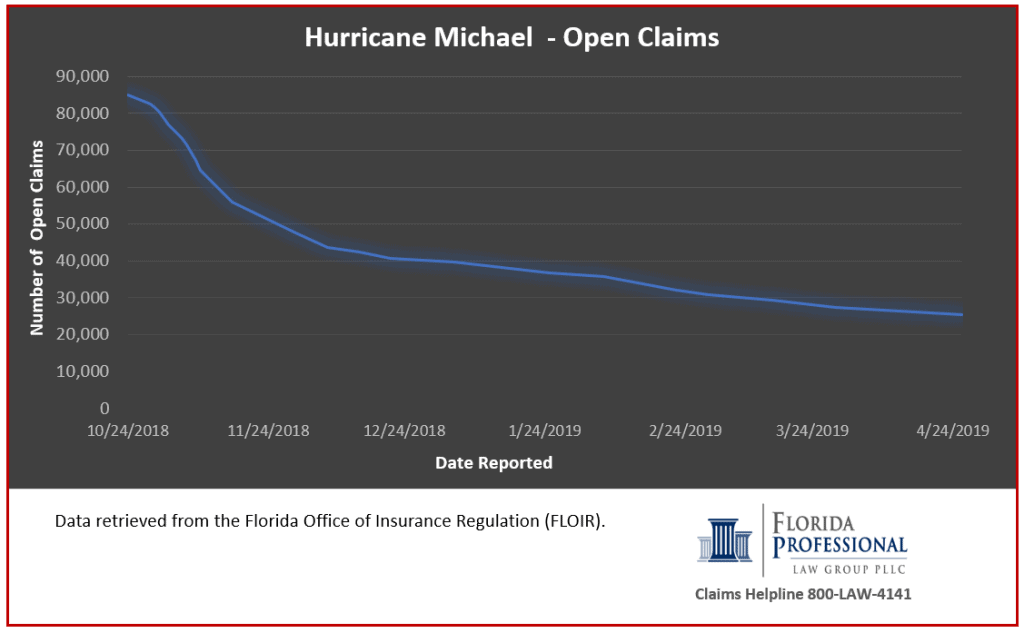 There are almost 20,000 Hurricane Michael claims that are open.
No matter where you are in the process with your insurance claim, stay on top of your claim and proactively manage the timeline of your claim. Make note if your insurance company misses theses deadlines. In the case of Hurricane Michael claims, it could simply be an honest backlog of work and they are doing their best to catch up. In other cases, it could be a sign of acting in bad faith. Log the date, time, who you spoke with and about what.
What You Can Do If Your Insurance Company Won't Pay
You have options if your insurance company won't pay you enough or flat out denied your claim:
File a complaint against your insurance company. In Florida, you should file a complaint against your insurance company with the Florida Department of Financial Services (DFS) Division of Consumer Services. Based on data acquired by Florida Professional Law Group regarding complaints, it takes on average 82 days for DFS to close a complaint from the time you submit one, and it doesn't guarantee the results you want.
Consult with a law firm that specializes in insurance claims. Most insurance attorneys will offer a free consultation of your claim. You may contact us for a no-obligation consultation. We'd be honored to help you with your insurance claim. Give our friendly and experienced Claims Helpline professionals a call at 800-LAW-4141. We're located in Hollywood, FL and serve the entire state. Florida Professional Law Group assists clients with new, underpaid, and denied property insurance claims. Our clients include homeowners, condo owners, businesses, and associations who experience property damage. Florida Professional Law Group has a six step insurance claim process aimed at getting you a fair settlement.