The Downside to Homeowners & Anyone with Interest in Well Maintained Property: An Example of How Homeowners May Now Pay Out-of-Pocket for Emergency Services
On April 24, 2019, The Florida Senate voted 25-14 in favor of Senate Bill 122 Assignment of Benefits (AOB) Reform. Note that SB 122 got a lot of attention but ultimately it was the house bill, HB 7065 that passed. Read the history and full details of SB 122 on the Florida Senate website. According to a press release issued by the Florida Governor's office, Republican Gov. Ron DeSantis said he will sign it. There are many consequential reform details in this bill that will impact not only vendors who utilize assignment of benefits contracts, but also homeowners who sign them. SB 122 applies to contracts that assign a portion of an owner's property insurance benefits to pay for urgent or emergency services that are performed to protect, repair, restore, or replace property, or to mitigate further damage to the property. The bill defines urgent or emergency circumstances as "a situation in which a loss to property, if not addressed immediately, will result in additional damage until measures are completed to prevent such damage." Read SB 122 in full. Read our summary of SB 122.
According to Marc Ben-Ezra, managing attorney of Florida Professional Law Group, "The leading theory is that this bill will protect insurance companies, homeowners, and other property owners from unscrupulous vendors. However, proponents of this bill provide a one-way argument but neglect also to offer insight into the probable negative impact to property owners and others with an interest in being able to repair and maintain damaged properties, such as condominium associations and residents, mortgage companies and cities."
The most notable being:
SB 122/HB 7065 places a $3,000 (or 1% of Coverage A) cap, whichever is greater, on emergency repair AOB invoices. Anything over that amount is the responsibility of the property owner to pay it.
Coverage A is the dwelling coverage amount. It covers the physical structure of your home and is usually an amount that matches the full replacement cost of your home.
"Unfortunately, many emergency situations may cost more than what SB 122/HB 7065 affords, and the property owner will be responsible for paying the balance out-of-pocket. The problem with this, as we have seen in our many years assisting property owners with their insurance claims, is that many homeowners don't have the extra funds to cover these unforeseen and unpredictable out-of-pocket expenses," said Ben-Ezra, "In the worst of scenarios, homeowners may not be able to make their property whole again when unexpected property damage occurs resulting in distressed and dilapidated properties. That's bad for property owners, not only in terms of living conditions, but also property values. It's bad for mortgage lenders and cities, too. They have a vested interested in ensuring property is in a 'healthy condition.'"
SB 122/HB 7065 Homeowner Out-of-Pocket Example
Let's look at a fairly conservative example of how homeowners may be paying out-of-pocket for emergency restoration services based on SB 122 changes.
Mr. and Mrs. Smith went away for the weekend. Upon their return they found water all over their master bedroom floor, bathroom, office, and living room (approximately 1,000 square feet) from a broken pipe in the bathroom. They call a few different dryout companies and learn that dryout services can cost anywhere from about $3.75 to $7.00 per square foot. There are a number of factors that impact the square foot price including the amount of labor involved, the number of machines needed, types of machines needed, and number of days needed. Another factor is the type of water being removed and its associated health risks:
Approximately $3.75/square ft. for clean water with no immediate health risks.
Approximately $4.50/square ft. for gray water which may contain chemical, biological, or physical contaminates.
Approximately $7.00/square ft. for black water which is considered highly unsanitary and likely to cause health risks.
For simplicity of this example, we'll use just the cost per sq. foot based on type of water being removed. We know from above that the Smiths have 1,000 square ft. that need dryout. Assuming it is clean water, the dryout cost will be $3,750.

Now the Smiths must calculate 1% of Coverage A in their policy to determine the maximum amount the dryout service can cost without having to incur out-of-pocket expenses.
Let's assume the Smiths' Coverage A amount is between $100,000 – $300,000. Their AOB cap will be $3,000. They will pay out-of-pocket the remaining $750. If the Smiths' coverage is $400,000 or more then they will not have out-of-pocket expense.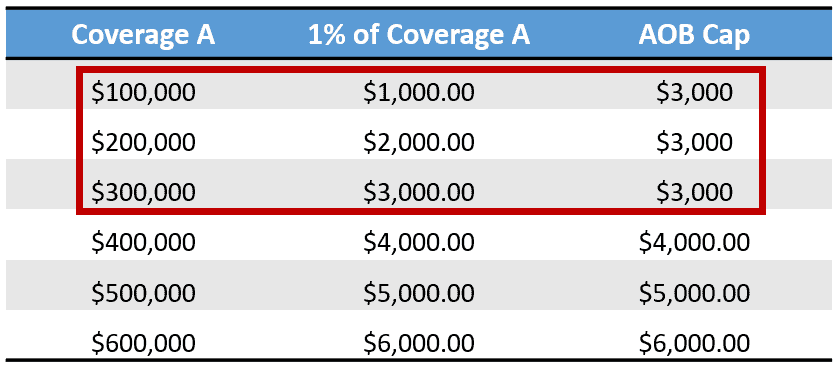 There is some good news. Based on the charts provided above, there may be no out-of-pocket expenses for dryout services that are 800 square feet or less for clean water, regardless of the Coverage A amount. Of course, there are other factors that increase cost like those discussed above.
The bad news, then, is if the square feet or level of health risk of the water increases, or any other costly variable comes into play, then the amount of out-of-pocket expenses will depend on the amount of Coverage A.
SB 122/HB 7065 also allows insurers to sell policies that completely prohibit a property owner from assigning any of his or her benefits to a service provider. If Mr. and Mrs. Smith have one of those policies they will have to pay for all of the work out of pocket and hope to recover from the insurance company later. For many property owners, this means that they will be unable to obtain the emergency services that they need when they suffer an insurance claim. To make matters worse, insurance policies require that after a loss owners take all necessary steps to protect the property and prevent it from being damaged further. Failure to do that, because they don't have the money to pay out-of-pocket or because they cannot access and assign the benefits under their policy, could give the insurance company grounds to deny all or part of the insurance claim.
Takeaways for Homeowners in Preparation of HB 7065 Taking Effect July 1, 2019:
Read your insurance policy and know your Coverage A amount. Review our article, How to Read Your Insurance Policy as a refresher.
Have a printed copy of your full insurance policy in a safe place and ready to show emergency restoration vendors. With the new changes taking place, they will likely require validation that your policy allows AOBs.
Make sure your Coverage A accurately reflects the value of your home. According to insurance.com, two of out every three homes are underinsured by 22 – 60%. As we've seen from the example above, in general, as your Coverage A increases, so too does your allotment for AOB invoices.
Paying out-of-pocket can be a hardship for many homeowners. Ask your service provider about their payment policies. Contact us if you have trouble finding a restoration company or other emergency service provider with flexible payment options. They may be able to assist you.