E: barrow@flplg.com
Ph: 954-284-0900 ext. 118
Brandon Arrow is an insurance and property prelitigation and litigation attorney. He helps property owners and lenders with coverage and valuation disputes with their insurance companies. Brandon's aim is to get his clients the compensation they deserve from the insurance companies when they have denied or underpaid a claim.
Brandon has worked on both sides of the fence. He currently represents insureds, but at one time, he represented a handful of different insurance companies. When fighting for his clients, his past experience working for the insurance companies gives him an edge when it comes to being able to predict how insurance companies will behave and handle a claim. Brandon has been practicing law since 2013 and has been in front of many judges in Broward County, Dade County, and Palm Beach County and throughout the state of Florida.
While at Florida State University, Brandon was a member of the Phi Kappa Tau Fraternity where he helped multiple philanthropies, such as Camp Boggy Creek founded by Paul Newman. While in law school, at Nova Southeastern University, he founded the Intellectual Property Law Society and served as president during its inaugural year.
Outside of the courtroom, Brandon enjoys traveling to other countries, learning new languages, Olympic weightlifting, and spending time with his family in Texas and Florida. Brandon was born in Miami and has lived in South Florida for his entire life.
Memberships & Affiliations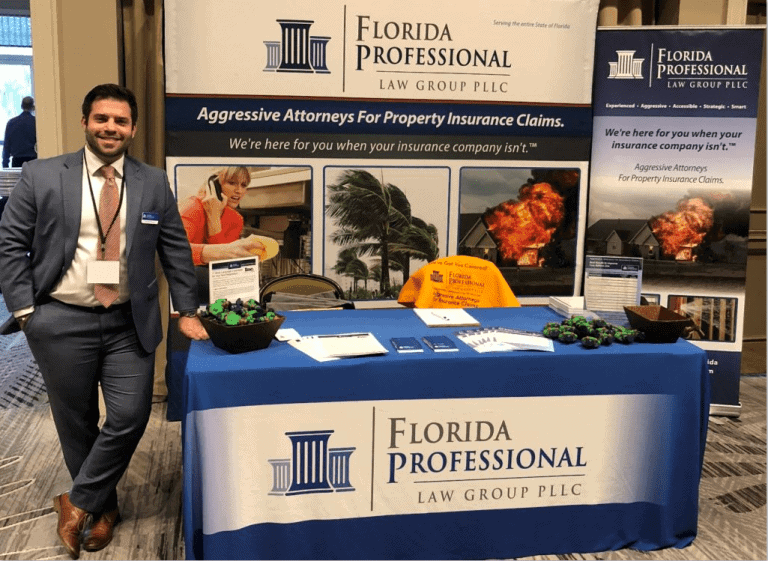 "I filed claim for Hurricane Irma damage. Our roof was damaged and leaking. Our fence was ripped off. There were leaks in the garage and kitchen which then caused mold. My insurance company came over and the estimate came in at under $500. There was no way we could fix the damage for that much or pay out of pocket to do so. We hired Florida Professional Law Group and Brandon got us a settlement for $41,000. I think you guys are great and I really appreciate it. Brandon gets things done, that's the bottom line, and in a very professional manner. I would recommend you to anyone and would refer you to anyone who has damage."
Paula F.

"Brandon is easy to communicate with and I think he has done an outstanding job. Whenever it was necessary, we communicated or I saw him in person. Each time we talked it was productive, not overly long but productive. Bottom line is he has been very positive, professional, and easy to deal with. I have no difficulty recommending Brandon to someone who has a problem similar to mine. In all of my dealings with him, every instance and communication has been above and beyond, so it's hard to say if something in particular has been outstanding when the entire experience with Brandon has been outstanding. I say this coming from someone who has had many dealings with other attorneys."
Stanley M.
Share Brandon Arrow's Profile
Request Free Consultation