Assignment of Benefits Reform
Summary of SB 122/HB 7065
On April 24, 2019, The Florida Senate voted 25-14 in favor of Senate Bill 122 Assignment of Benefits (AOB) Reform. Note that SB 122 got a lot of attention but ultimately it was the house bill, HB 7065 that passed. Read the history and full details of SB 122 on the Florida Senate website. According to a press release issued by the Florida Governor's office, Republican Gov. Ron DeSantis said he will sign it. There are many consequential reform details in this bill that will impact not only vendors who utilize assignment of benefits contracts, but also homeowners who sign them. SB 122 applies to assignment of benefits contracts in which urgent or emergency services are done to protect, repair, restore, or replace property, or to mitigate further damage to the property. The bill defines urgent or emergency circumstances as "a situation in which a loss to the property, if not addressed immediately, will result in additional damage until measures are completed to prevent such damage." Read SB 122 in full.
The most notable for both sides:
Coverage A is the dwelling coverage amount. It covers the physical structure of a home and is usually an amount that matches the full replacement cost of your home.
SB 122/HB 7065 Reform Summary
Who does SB 122/HB 7065 impact?
Assignment of benefits (AOB) vendors (aka "assignees") providing urgent or emergency services to protect, repair, restore, or replace property or to mitigate against further damage to the property. These could be plumbers, roofers, and dryout companies, for example.
Property owners (aka "insureds" and "assignors").
Insurance companies (aka "insurers").
Insurance Companies May Offer AOB-Restricted Policies
Insurance companies may offer a policy restricting the use of AOB contracts. However, if they do so, they must also offer an equivalent policy that does not restrict the use of AOB contracts.
Insurance companies must offer AOB-restricted policies at a lower rate than AOB non-restricted policies. Note: there is currently no sense of how much this reduction would be. Senate rejected a proposed amendment that would have required specific rate reductions for customers who accept policies that limit or do not allow assignment of benefits.
The policy must include the following language in 18-point uppercase and boldfaced type:
THIS POLICY DOES NOT ALLOW THE UNRESTRICTED ASSIGNMENT OF POST-LOSS INSURANCE BENEFITS. BY SELECTING THIS POLICY, YOU WAIVE YOUR RIGHT TO FREELY ASSIGN OR TRANSFER THE POST-LOSS PROPERTY INSURANCE BENEFITS AVAILABLE UNDER THIS POLICY TO A THIRD PARTY OR TO OTHERWISE FREELY ENTER INTO AN ASSIGNMENT AGREEMENT AS THE TERM IS DEFINED IN SECTION 627.7152 OF THE FLORIDA STATUTES.
The insurer must notify the insured annually of coverage options and attach these options to the premium notice.
If the insured renews a policy that disallows AOBs, then the insured must reject a fully assignable policy in writing or electronically on a form approved by the Office of Insurance Regulation (OIR) and provided by the insurer. The heading of the form shall be in 18-point uppercase and boldfaced type and state:
YOU ARE ELECTING TO PURCHASE AN INSURANCE POLICY THAT RESTRICTS THE ASSIGNMENT OF BENEFITS UNDER THE POLICY IN WHOLE OR IN PART. PLEASE READ CAREFULLY.
 Contract Requirements
$3,000 cap (or 1% of Coverage A) on emergency repair AOB invoices. Anything over that amount is the responsibility of the property owner to pay it.
Must be in writing and executed by both the assignor and the assignee.
Must include the following language in 18-point uppercase and boldfaced type:
YOU ARE AGREEING TO GIVE UP CERTAIN RIGHTS YOU HAVE UNDER YOUR INSURANCE POLICY TO A THIRD PARTY, WHICH MAY RESULT IN LITIGATION AGAINST YOUR INSURER. PLEASE READ AND UNDERSTAND THIS DOCUMENT BEFORE SIGNING IT. YOU HAVE THE RIGHT TO CANCEL THIS AGREEMENT WITHOUT PENALTY WITHIN 14 DAYS AFTER THE DATE THIS AGREEMENT IS EXECUTED, AT LEAST 30 DAYS AFTER THE DATE WORK ON THE PROPERTY IS SCHEDULED TO COMMENCE IF THE ASSIGNEE HAS NOT SUBSTANTIALLY PERFORMED, OR AT LEAST 30 DAYS AFTER THE EXECUTION OF THE AGREEMENT IF THE AGREEMENT DOES NOT CONTAIN A COMMENCEMENT DATE AND THE ASSIGNEE HAS NOT BEGUN SUBSTANTIAL WORK ON THE PROPERTY. HOWEVER, YOU ARE OBLIGATED FOR PAYMENT OF ANY CONTRACTED WORK PERFORMED BEFORE THE AGREEMENT IS RESCINDED. THIS AGREEMENT DOES NOT CHANGE YOUR OBLIGATION TO PERFORM THE DUTIES REQUIRED UNDER YOUR PROPERTY INSURANCE POLICY.
Must include a written, itemized, per-unit cost estimate of the services to be performed by the assignee. Work can relate only to work being performed by the assignee for services to protect, repair, restore, or replace a dwelling or structure to mitigate against further damage.
AOB contracts can't include:

Penalty or fee for rescission or cancellation of the agreement.
Administrative fees.
Check or mortgage processing fees.

The assignee can't pursue the named insured for payments arising from an assignment agreement. This is true even if:

the assignment is rescinded.
the assignment is found invalid.
an insured elected for a policy prohibiting the use of AOBs.
Duties and Obligations of Assignees under AOB Contracts
Assignee must provide a copy of the AOB contract to the insurance company within 3 days of the agreement being executed or the date on which work begins, whichever comes first.
Must provide assignor with accurate and up-to-date revised estimates of the scope of work to be performed as supplemental or additional repairs are required.
Must perform work in accordance with accepted industry standards.
May not seek payment from the assignor exceeding the applicable deductible under the policy unless the assignor has chosen to have additional work performed at the assignor's own expense.
Must submit to examinations under oath conducted by the insurer when reasonably necessary.
Must participate in appraisal or other dispute resolution methods in accordance with the terms of the policy.
Bears the burden of proof to demonstrate the insurer was not prejudiced by the assignee's failure to:

Maintain records of all services provided under the assignment agreement.
Cooperate with the insurer in the claim investigation to include sitting for examination under oath and participate in appraisal.
Provide the insurer with requested records and documents related to the services provided, and permit the insurer to make copies of such records and documents.
 Rights of the Assignor
Assignor can rescind AOB without penalty or fee within 14 days after the execution of the agreement. Assignor is responsible for fees related to work performed prior to the cancellation.
Assignor can rescind AOB without penalty or fee within at least 30 days from the date work on property is scheduled to commence if repairs haven't been substantially performed.
Assignor can rescind within or at least 30 days after execution of agreement if agreement doesn't contain a commencement date and substantial work has not been performed.
AOB Lawsuits
Attorney's fees can only be recovered when the claims process breaks down and the parties are no longer working to resolve the claim.
Assignees must first provide a notice to file suit to the assignor, insurer, and the policyholder, at least 10 business days before filing a suit. This notification must include a presuit settlement demand including the damages in dispute.
A notice to file suit can't be served before the insurer has made a coverage determination.
Must provide all parties (insurer, named insured, and assignor) with detailed written invoice or estimate of services including: itemized information on equipment, materials, and supplies, and the number of labor hours; and proof of work that has been performed in accordance with accepted industry standards.
Insurer must respond within 10 business days of receipt of the notice to file suit by either 1) making a presuit settlement offer or 2) requiring appraisal.
Attorney's fees are calculated by determining the difference between the assignee's presuit demand and the insurer's presuit offer. This difference is called the "disputed amount". If the difference between the judgment obtained by the assignee and the presuit settlement offer is:

Less than 25 percent of the disputed amount, the insurer is entitled to an award of reasonable attorney fees.
At least 25 percent but less than 50 percent of the disputed amount, no party is entitled to an award of attorney fees.
At least 50 percent of the disputed amount, the assignee is entitled to an award of reasonable attorney fees.

Insurer waives its rights to attorney fees if the insurer fails to inspect the property or provide authorization for repairs within 7 calendar days after the first notice of loss. This does not apply the insurer can't authorize repairs due to:

State of emergency
Factors beyond the control of the insurer which reasonably prevented an inspection or authorization of repairs
Named insured failed to allow, or was unable to provide for, an inspection of the property
How AOB Attorney's Fees are Calculated Under SB 122/HB 7065

Let's take a closer look at an example of how attorney's fees are calculated:
Mr. and Mrs. Smith came home from a long weekend to find several rooms in their home were soaked with water on the floor. They called a water dryout company to take care of the water. See the
homeowner's version
of this SB 122/HB 7065 scenario.
The dryout company went to the Smith home and provided an estimate, along with checking the
Smith's insurance policy
for coverage. They then completed the work based on the estimate and submitted a bill within 3 days to the insurance company for $3,750. The dryout company attempted to collect on their full bill by sending an 'intent to file suit' letter to the insurance company, with a
presuit demand
of $3,750. The insurance company responded back within 10 days with their
presuit settlement offer
. Below are three scenarios for who is entitled to attorney's fees based on different possible final judgments.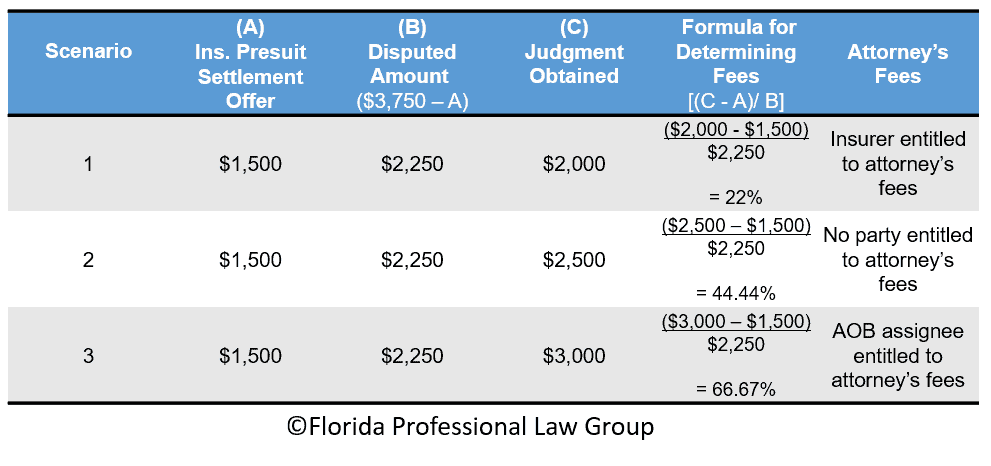 The attorney fee formula set forth by SB 122/HB 7065 appears to provide incentive to the AOB vendor to complete jobs for reasonable fees (as perceived by the insurance company) and to the insurance company to provide their best presuit settlement offer in order to avoid paying attorney's fees.
This form does not create an attorney-client relationship. Situations vary. Don't rely on this website for legal advice. By submitting this form, you are consenting to receive marketing emails from: The Professional Law Group, PLLC, 4600 Sheridan Street , Suite 303, Hollywood, FL, 33021, US. You can revoke your consent to receive emails at any time by using the SafeUnsubscribe® link, found at the bottom of every email. Emails are serviced by Constant Contact.
Take Charge of Your Property Insurance Claim
Get Enough to Cover Your Loss